A groundbreaking text and video program for Medical Spanish!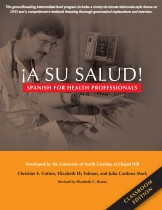 ¡A su salud!
Spanish for Health Professionals

Instructors: Contact Yale University Press to request eight downloadable quizzes with answer keys.
One-on-One Online Tutoring with Native Speakers Now Available
Yale University Press has partnered with InterLangua to give users of ¡A Su Salud! the opportunity to improve their speaking skills and listening comprehension.
Read a review of ¡A su salud! from the Online Course Evaluation Project (OCEP).
What Students are Saying about ¡A su salud!
The comments below are from students who are taking the ¡A su salud! course and are enrolled in the Health Affairs and Social Work schools at the University of North Carolina at Chapel Hill.
"I absolutely love this course! It combines written, grammatical and verbal skills in a fun format. A public health practitioner and student, I work with HIV+ Spanish speaking patients in a clinical setting and often have to discuss complicated social and clinical issues with them…A Su Salud has been incredibly helpful… The course is so interactive and hands-on, that I sometime forget we have a virtual classroom! I cannot begin to explain how I have benefited from this course, and how I hope my patients will also benefit." —Danielle Haley, public health student
"A su salud! has been instrumental in improving my fluency and ability to communicate with my patients. This is an extremely important course not only because it is available to healthcare providers practicing in the field but also because it is specifically geared toward the healthcare situations… "[The DVD] brings the subject matter to life and I find myself looking ahead to see what is going to happen next (and I do not consider myself a "soap opera junkie"). Health topics are current and have interestingly enough been somewhat timely for me. Having a variety of different Latinos (from Cuba, Mexico, Guatemala) has helped with "real time" communication in an office setting." —Susan Maclean, public health student
"¡A su salud! is IMPERATIVE for health care professionals who need to interact with the increasing Latino population in the state of NC. It is impossible to register for UNC-CH main campus language courses, due to limited availability, and conflicting class times. There are often long wait lists for these courses, and the daily class times are unable to fit into the professional/graduate student's schedule. This course has given me the tools to provide better patient care and ways to bridge the communication gap between cultures." —Aimee Weiner, pharmacy student
"This course is outstanding. I am a person who learns much more effectively in a classroom setting and I have been blown away by the organization and efficacy of this course…I recently interviewed for a job in NYC counseling people living with HIV around their medication adherence. I told the person interviewing me about this course and she then asked me to speak with her in Spanish. I would not have been able to do that comfortably before taking this course to refresh and increase my skills. The woman was thrilled to hear about the course and felt my skills and the new vocabulary I was learning would be integral to the work I would do if hired into the position. Gracias ¡A su salud! —Jill Kunkel, pubic health student
"…This is the best language course I have taken. I have spent more time actually speaking the language than I did in traditional classes…There is so much information in the Cuaderno [workbook] and the DVD, I could take the class again and learn just as much the second time around… The format of the class is excellent because I am able to learn at my own pace…My oral proficiency, or at least my confidence in using it, has increased greatly with this course. I am able to speak freely to my patients and their parents in my clinic. Of course, I can't say and understand everything, but I know enough to be able to ask for their help and describe what I mean until we all understand. My patients seem to appreciate it immensely and it has really changed my relationship with some." —Martha Hardaway, dental resident
"I like that there are a number of small activities that help me keep my Spanish in working order without overwhelming me. By just taking a few minutes, I can accomplish an activity and practice a little bit. The variety of listening, speaking, and writing on different topics is really impressive. "—Kate McGinigle, medical student
"The DVD helps me to understand things that I would never consider culturally specific (such as the use of a scale to measure pain)…" —Kathy Colville, social work student
"I enjoy having the course based on a DVD telenovela based around a health clinic because it certainly makes the learning more interesting. The flexibility of the course is a real positive as well." —David Tayloe, medical student
"As a dental student, 70% of my patients under age 18 currently have parents that can not speak English. The dental school does not have a single dedicated translator to serve its over 400 students. Thanks to "¡A su salud!", I have improved my Spanish speaking to a level that allows me to communicate adequately with Hispanic patients." Eric Roman, dental student
"¡A su salud! provides more spoken language time than any other Spanish class I have taken. …[S]ince Spanish interpreters are not always readily available, having the ability to communicate in Spanish will allow me to begin the medical interview with patients and also provide reassurance to patients that I am culturally sensitive and aware. Plus, knowing Spanish will allow many medical students the ability to participate in activities such as immunization programs with migrant farm workers and working in rural communities with large Hispanic populations and little medical care." —Maya Kommineni, medical student
"I think that this course is a wonderful and convenient way for students…to practice their Spanish and gain critical insight into medical issues and conditions as well as various social circumstances that are facing the ever-growing Latino population in the United States…"I think that by far the best resource [for improving my understanding the Latino immigrant culture]…has been the DVD…watching the excerpts from people who are actually living these issues every day has left the greatest impression on me." —Garth Watkins, medical student