Communication and Culture: Fourth Edition
Robert O. Chase and Clarisa B. Medina de Chase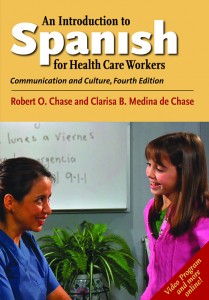 Welcome to the companion website for An Introduction to Spanish for Health Care Workers, Fourth Edition.
The fully revised color fourth edition is now available and can be purchased from Yale University Press.
The enhanced ebook with embedded audio and video files is available from Kno.com. Kno.com ebooks are compatible with tablets, iPads, Windows, and the Web. Students and their instructors can share notes, create study guides from their highlighted text and annotations, search for terms, and more. The Video and Headphone icons in the ebook are links to the video and audio program segments so all of the book's media is available at your fingertips.
Instructors:
Request a sample of the enhanced ebook.
Request an exam copy of the print book.

To access the following resources, please use the links to the right:
Links of interest

Tips for students and teachers, including worksheets and a sample syllabus

Video program

Audio files and scripts from the video program

Audio files from the new, integrated audio program

Learning Check: Self-correcting online quizzes for each chapter
Send questions or comments about this site to the Webmaster.
For more information, click here.