Ahlan wa Sahlan
Functional Modern Standard Arabic for Beginners, Second Edition
Mahdi Alosh
Revised with Allen Clark
Access the audio & video program for the Textbook
Access the audio & video program for the Workbook
View the first edition's Instructor's Handbook (PDF file)
Some resources during Covid:
Homework Schedule Arab 111 SU20
Important Note to Instructors: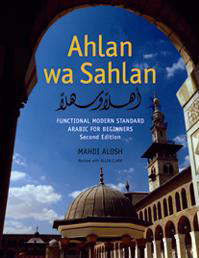 With the publication the the Second Edition, you must use the Letters and Sounds of the Arabic Language Workbook (ISBN 978-0-300-14048-4 with disks or ISBN 978-0-300-21446-8 with online media) before beginning the Ahlan wa Sahlan Beginning Textbook (ISBN 978-0-300-12272-5). Completion of the workbook precedes use of the textbook; they are not used concurrently. A set of the Textbook and Workbook is available for a lower price (ISBN: 978-0-300-16290-5).
Features of the New Edition include:
new video series, filmed in Syria

expanded communicative activities

hundreds of online, interactive exercises

material designed according to proficiency principles
Components of the New Edition include:
Annotated Instructor's Edition of the Student Textbook (ISBN 978-0-300-14047-7, free to instructors)