Italia Contemporanea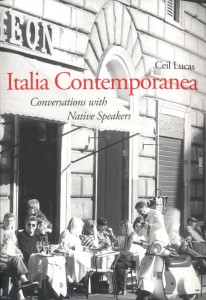 This exciting, authentic text will enhance any Italian class. It consists of interviews with ordinary people speaking Italian—among them a farmer, a mechanic, a neurologist, a journalist, a nurse, and a secretary. Each interview focuses on aspects of everyday life: work, housing, soccer, poetry, the role of women in Italian society, politics, the use of language, and many other lively topics. Natural and unscripted, the interviews showcase a variety of accents, including Roman, Florentine, and Milanese. The video interviews related to the text are now available on this website.
Designed for use with students at almost any level, Italia Contemporanea is ideal for improving listening and comprehension skills. The text includes complete transcripts of each interview, notes about vocabulary and usage, questions about the content of the interviews, as well as questions about the student's own experience.
Please see your copy of the book for the password to access the videos.
Media Access
Click here to access all of the video files for Italia Contemporanea
"What is particularly attractive and engaging about the entire video is that the speakers did not memorize or rehearse their remarks; everything that is said is in the spirit of a true conversation, authentic and genuine. The video program comes with an excellent workbook, which includes a transcript of each interview as well as a vocabulary list and comprehension questions. . . . Italia Contemporanea is an impressive language learning package useful for college students at the intermediate level and higher. Instructors will benefit from the sample course outline and lesson plans, which the author provides at the beginning of the workbook. Students are sure to enjoy this oral and visual approach to learning about Italy, its language and culture."—Sarafino DeGregorio,NECTFL Review
"Both the video and workbook of Italia Contemporanea are valid language teaching tools in several carefully selected segments. They are suitable for high intermediate and advanced students of Italian at the college level, given both linguistic features and topics of the interviews."—Flavia Laviosa, Modern Language Journal