A groundbreaking text and video program for Medical Spanish!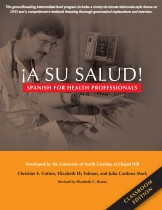 ¡A su salud!
Spanish for Health Professionals

Instructors: Contact Yale University Press to request eight downloadable quizzes with answer keys.
One-on-One Online Tutoring with Native Speakers Now Available
Yale University Press has partnered with InterLangua to give users of ¡A Su Salud! the opportunity to improve their speaking skills and listening comprehension.
Instructors: Contact Yale University Press for a copy of the 264-page Instructor's Guide in PDF. It includes sample syllabi, suggestions for adapting the material to your teaching environment, sample tests, transcripts of the videos, and more.
How Does it Work?
Pedagogy
¡A su salud! is an intermediate-level Spanish program designed to help students and practicing health professionals develop oral proficiency skills—listening, speaking—as well as cultural awareness.
¡A su salud! integrates language development, health content, and cultural awareness focusing on the Spanish and culture of recently-arrived Latino immigrants.
The content in each unit is organized around specific health, language and cultural tasks, with grammar and vocabulary addressed "in context". Exercises are centered around real-world health tasks.
The ¡A su salud! program is delivered via the web and a print workbook. By taking advantage of the combined capabilities of these delivery methods, ¡A su salud! accommodates students with different learning styles and communication needs and provides students with a dynamic mix of "face-to-face" interaction, self-paced study, and exercises for practice, all from the convenience of home or office.
This innovative approach is ideal for distance learning and provides students with the opportunity for "anytime, anywhere" instruction in their rotations, internships, or practices.
¡A su salud! is designed as an instructor-led program where the instructor assumes the role of facilitator and coach rather than the traditional role as lecturer. The instructor interacts with the student through a variety of exercises and web tools found in the web component of the program.
¡A su salud! is designed with a high degree of learner control because the student decides where to start in a section, what sequence to follow, and the number of times to view video and attempt exercises. Most importantly, the student can individualize and expand the DVD, web and print components to construct a personalized learning environment.
Preparación
The Preparación section is composed of pre-learning activities that focus students on the content to be presented in the upcoming unit.
Some features of the Preparación section include:
Objetivos—Presents the objectives for the upcoming unit.
Principios—Highlights specific health and language issues students will encounter in the unit.
Más alla—Discusses how and why some messages may be unclear and provides strategies to help students clarify what is being said.
Virtual Grammar Device—Presents an in-depth look at a grammar point that is especially difficult for English speakers of Spanish to understand.
Vocabulario—Presents specific vocabulary (key terms and phrases) from the Historia. The student can access an audio pronunciation of the featured words or phrases and see written examples of the words or phrases used in context. The Vocabulario is designed to help the student learn the key vocabulary used in the storyline and to recognize these words and phrases in context. However, it is not designed to function as a dictionary.
Personajes—Presents detailed profiles (video) of characters featured in the episode of the unit.
Historia (Video)Each unit of ¡A su salud! is organized around an episode from the Historia—a simple, but engaging storyline, delivered as broadcast-quality video. An interdisciplinary cast of characters (e.g., physicians, nurses, social worker, pharmacist, clients and community people) with a variety of accents, set in a Latino-run community-based health center, help make language and culture come alive. The story's plot presents authentic and provocative scenarios involving the staff, members of their families, and Spanish-speaking clients and community members. Each episode of the Historia introduces students to grammar structures and vocabulary that are then reinforced in the exercises on the web and workbook.
Some features of the Historia section include:
Resumen—A brief video review that identifies key story elements from the Historia in the previous unit.
Subtitles—Spanish subtitles that are accessible while viewing the Historia.
Glossed entries—Specific terms that appear in the subtitles are hyperlinked to the Glosario.
Repaso
The Repaso section consists of review exercises that check students' comprehension of the Historia.
Aplicación
The Aplicación section consists of exercises (e.g., case studies, discussion questions) that require students to reflect, problem-solve and interact with other students and/or the instructor through the web component of the program. The exercises use video that features authentic language and is based on observable communication in the health care environment.
Web
The web component consists of a portal page with links to useful health and culture resources and interactive language exercises.
Workbook (cuaderno)
The workbook component of ¡A su salud! is organized in the same sequence as the DVD and web components and offers more detailed explanations of the content found on the DVD and web and includes additional practice exercises.
Support materials
Support materials, such as an Instructor's Guide, with sample syllabi and tips and strategies for using the instructional materials and completing interactive exercises, will be made available to instructors.