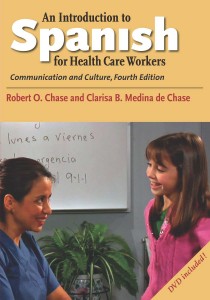 An Introduction to Spanish for Health Care Workers
Communication and Culture: Fourth Edition
Robert O. Chase and Clarisa B. Medina de Chase
Links of Interest by Chapter
Yale University Press is not responsible for the content of the Web sites linked from this page. If users believe that the intended content may have been replaced or moved to another site, please contact the Webmaster.
General Links
Consult the official Spanish to Spanish dictionary of the Real Academia Española.
Dicciomed is an excellent Spanish to Spanish medical dictionary.
Disease Risk Index. This tool contains interviews to determine an individual's risk of various diseases. The questions in the tools can constitute helpful questions in a decision-tree diagnostic interview.
Diario medico. This is a newspaper from Madrid and covers news and advances in medicine.
Saludalia. This is a newspaper with interactive articles about medical themes.
Read a variety of medical articles at the official website of the Univisión television network of Spain.
Listen to streaming talks on a variety of medical themes at the official site of El Hospital General de Mexico Eduardo Liceaga, México, D.F.
Chapter 1
Diversity Rx: This site in English provides good cross-cultural information. The purpose of DiversityRx is to improve the accessibility and quality of health care for minority, immigrant, and indigenous communities.
back to top
Chapter 2
This official site of the Complejo Hospitalario Universitario de Albacete, España contains three-dimensional maps of floors and departments.
Plans for El Hospital Italiano, Buenos Aires, Argentina
Chapter 3
El Cuerpo Virtual: Construct a skeleton and look into the human brain, heart, and digestive tract in Spanish.
The Government of the Canary Islands has provided this excellent map of the body with labels including the heart, muscles, sensory organs, and the bones of the head and face.
Chapter 4
Telexplorer: This telephone directory will let you seek businesses and individuals in several Spanish-speaking countries. Invent a game for practicing telephone numbers.
Here's a sample patient inscription form from the Pfizer assistance program.
Here's a sample patient inscription form from an imaging center.
Here's a sample patient inscription form from a physical therapy provider.
Chapter 5
The Family Watch is a think tank and a center for studies about the family.
Chapter 6
Farmacia Rex: See what products are sold at the Farmacía Rex in Buenos Aires, Argentina.
Hospital La Fe in Valencia, Spain, provides animated educational information about allergies and childhood asthma.
Medline Plus, a service of the U.S. National Library of Medicine and the National Institutes of Health, offers information about herbs and supplements.
These tips for healthy living in Spanish from the Centers for Disease Control feature the formal (usted) commands that you learn in chapter 6
Chapter 7
The USDA provides Choose My Plate and other nutritional brochures in Spanish. Here is a sample.
This Kraft foods site contains recipes and cooking information in Spanish.
The Subway Restaurants site for Guatemala contains nutritional information.
Chapter 8
This is a description of the physical portion of a neck examination.
Chapter 9
Profesor Barbara Kuczun Nelson of Colby College in Waterville, Maine is famous for this excellent site that provides grammar practice exercises. The page "Un viaje al Ecuador" will help you practice the preterit and imperfect modes of the past tense.
The University of Maryland Medical Center has articles about alcoholism.
Visit the Mexican branch of Alcoholics Anonymous.
Chapter 10
Medline Plus: Look up illnesses and treatments at the author's favorite resources Web site for medical information for lay persons.
Look up illnesses by systems at this program sponsored by the Universidad de Burgos.
The Center for Disease Control and Prevention of the United states provides this website with information on specific diseases in Spanish.
This is a United Nations educational project called Cyber School Bus, and contains information about cholera and other tropical infectious diseases.
Read about different types of cancer at the official Spanish website of the American Cancer Society.
Chapter 11
Clínica Dental Velásquez in Madrid, Spain has a section on dental implants.
This website about mental health is sponsored by the Organización Mundial de la Salud (WHO).
Chapter 12
Gineweb.com provides educational information in Spanish about gynecological matters.
Embarazada.com contains a question-and-answer blog and other information about reproductive health. In the section herramientas y calculadoras you'll find an online calculator for ovulation and anticipated date of delivery.
La Leche League International provides a Spanish-language site with resources and information that promote breastfeeding.
This women's health site is sponsored by the U.S. Department of Health and Human Servies.
Read about pregnancy and possible complications at the March of Dimes website in Spanish.